Hot Spring Oasis Rich in European and
Japanesque Ambiance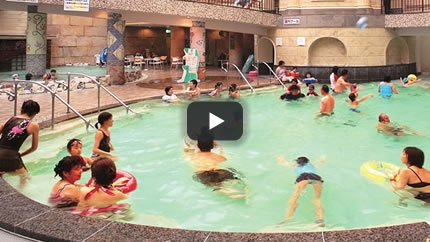 This facility offers two different hot spring zones: an indoor Southern-Europeanstyle spa zone for mixed-gender bathing in swimsuits and a large gender-separated communal tub zone for leisurely enjoying nude hot-spring bathing. The facility also has a multipurpose zone structured for flexible applications. Within the vast space of Spring Town, which is covered by an atrium-style ceiling that stretches from the third to fifth level, soft natural light streams down from the skylights over stylish spa facilities nestled in a South European townscape, including a wide range of bathtubs for extensive hot spring delight. The Palace communal hot spring bathing area is stocked with a rich range of 24 bathtubs—12 different types of tubs for both men and women—in a facility designed for the pure and complete enjoyment of the hot spring experience.
Spring Town
Choose from a rich array of bathing environments—ranging from the type of artistic, tile-decorated circular tubs found in the parks of Southern Europe, to ondol floor-heated tubs, tubs with massaging jets, and more. Donning swimwear, guests of all ages, men and women alike, are able to jointly use and enjoy this breathtaking spa zone.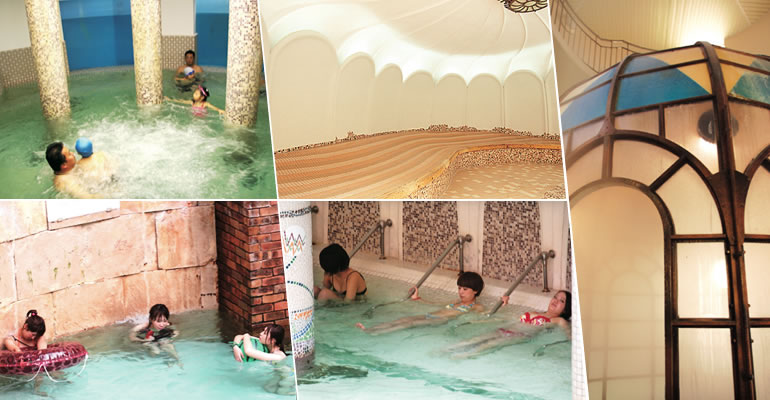 Tub Types
・Large tubs ・Cascading water bath ・Reclining bath ・Bath with massaging jets ・Mist sauna ・Ondol (floor heated)
Spring TownPalace Communal Hot Spring Bathing Area
Combined bathing area of 960 m2 for both men and women. Chloride spring water is used for the bath with massaging jets and the reclining bath, and sulfur spring water is used for all other baths. This facility features a wide lineup of tubs, such as cypress tubs filled with hot water channeled directly from the spring source, and is guaranteed to please even the most discerning spa aficionados.

Tub Types
・Open-air bath ・Cypress wood bath ・Granite bath ・Bath with massaging jets ・Reclining bath ・Cascading water bath ・Cold water bath ・Sauna ・Body shower
Plaza
The Plaza is a multi-purpose area that consists of a front desk, a rental service station, an open space for events and shows, and a second-level corridor structured to surround the event space. The Plaza normally serves as a rest area with tables and chairs where guests can sit back and relax while sipping beverages and snacking.