Resort Hotel Designed after a Snow White
Luxury Liner
With soaring ceilings and expansive spaces, this captivating resort venue echoes the ambience of the French Riviera on the Mediterranean coast. The white-themed interior is centered around an atrium bathed in rich sunshine from the skylight overhead. Guestrooms called "cabins" are lined up on both sides to accentuate the ship motif. These rooms offer ready access to the resort's pools, so guests can go directly to the pools in their swimwear. The bright and immaculate surroundings help heal the bodies and minds of guests, who come to enjoy a refined and relaxing stay reminiscent of an elegant seaside resort.
Guestrooms
The hotel's "cabins" are living spaces with beds and sofas. They earn stellar marks from their "passengers." The cabins provide a comfortable roominess that makes guests want to stay in theme forever and also give guests a truly bright and liberating resort experience.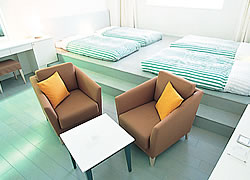 Standard Cabins
Resort-style guestrooms that combine a raised-floor bed space and a living space with comfy sofas.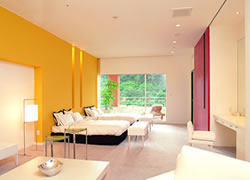 Suite Cabins
Gorgeous guestrooms that pursue Italian modern design concepts. Glassencased bathrooms and spacious verandas further accentuate the elegant resort charm of these cabins.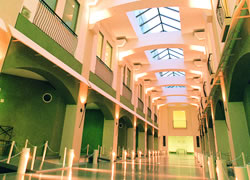 Atrium
This grand atrium space exquisitely visualizes the elements of light and water, with rows of cabins accessed beyond the flowing water on both sides .
Spa Facility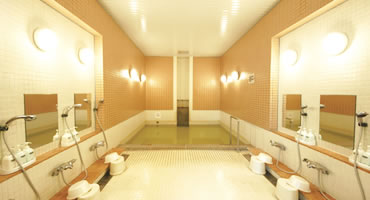 Grand Communal Bath
Sulfur containing spring water softens collagen, promotes an active metabolism, whitens skin, and firms up skin tone. This richly sourced free-flowing hot spring, a distinct delight for lady bathers, underscores the fundamental ViR Port theme of contributing to beauty and health.
Restaurant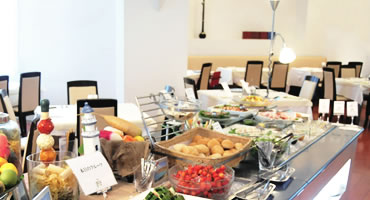 Latio 4-2-2 Resort Buffet
Lovely resort restaurant venue with an immaculate white interior design. The semi-buffet dining style allows guests to choose from a scrumptious meat or fish main dish, prepared with special loving care by ViR Port chefs. Dine in relaxed luxury in an invigorating atmosphere that offers a panoramic view of the Bay Stage aqua-exercise pool area.