Largest Open-Air Bath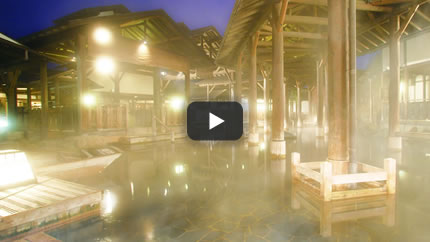 A high ceiling, white walls, black-lacquered pillars, and flooring crafted from the wood of aged trees that is soft and pleasant on the feet. This spafacility recreates the nostalgic ambiance of the townscape and public bathhouses of the Edo period (1603–1867) in Japan. The combined tub area for men and women is some 1,000 m2—making this the world's largest open-air bath. The name "Yoichi" is taken from Yoichi Ise, the entrepreneur responsible for opening the first public bathhouse in 1591 (at the dawning of the Edo period). In addition to the high-quality, rich, free-flowing spring water, the staging effects steeped in the atmosphere of Old Edo put this spa in a category unto itself.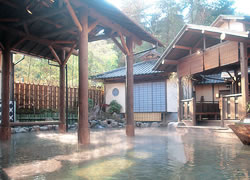 Massive Open-Air Bath
Guests pass through a lit corridor to reach this spacious open-air bathing area engulfed in clouds of steam. The breathtaking scale and majesty of this bath truly defy the imagination.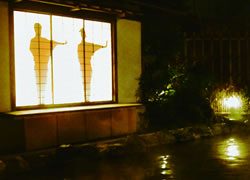 Shadow Play
While immersed in this open-air hot spring, guests can enjoy scenes of elegant dances actually performed during the Edo period reflected on large paper screen doors.
Herbal Sauna
The combinations of seasonal herbs and hot spring steam used by this sauna will energize bathers from within as they enjoy tranquil relaxation.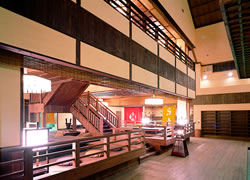 Noodle Dining
Dine on full-fledged Edo soba—buckwheat noodles fragrant in bouquet and resilient in body—served in a venue modeled after a two-story residence. This dining area is designed to convey the mood of the Edo era and is located along the path to the open-air bath.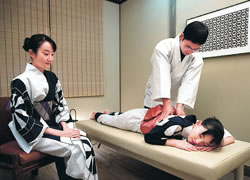 Massage Salon
Healing massages are provided in traditional Japanese style private rooms. The massages employ a unique combination of acupressure point stimulation and muscle relaxation techniques to relieve physical and mental fatigue and stress.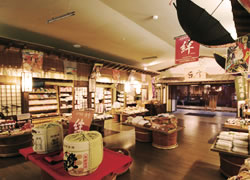 GiNs and Souvenirs
Zenigame Avenue recreates a streetscape from the Edo period. The rows of shops packed into this bustling space offer an intriguing lineup of items in the "Old Tokyo" spirit.