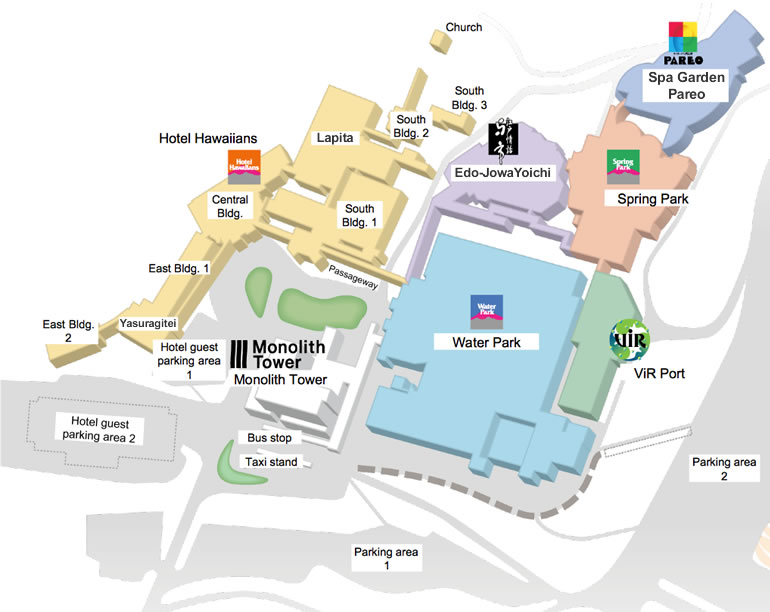 Spa Resort Hawaiians is a unique hot spring theme park designed for yearround enjoyment, regardless of the climate, that serves the needs of guests of all ages, from young children to senior citizens. Its hot spring water is drawn from Iwaki Yumoto Hot Spring, a thermal spring with a history of more than 1,600 years that ranks with Arima Hot Spring and Dogo Hot Spring as one of Japan's three oldest hot spring resorts. The total water flowing from this hot spring is 5.5 tons per minute, and Spa Resort Hawaiians consumes 3.5 tons of that volume. In addition to its use in the large communal baths and spa facilities, this hot spring water is also channeled into the facility's pools, enabling guests to realize the beneficial effects of the hot spring water while having fun in the pool. Spa Resort Hawaiians has five spa theme parks, three hotels, and a golf course.
Theme Parks
Water Park
Perennial summer all-weather dome. Within the park, which maintains an average temperature of 28℃, are large hot spring pools; flowing pools; waterslides; the Beach Theater, which hosts daily Polynesian stage shows; and other facilities. This park is the one for which Spa Resort Hawaiians is most renowned.
Spring Park
A hot spring oasis that comprises a hot spring bath for bathing in the nude and a Southern-European-style spa facility for bathing in swimsuits.
Spa Garden Pareo
An outdoor spa park surrounded by rich greenery and hot springs.
Edo-Jowa Yoichi
A spa facility that recreates the nostalgic ambiance of a past era when Tokyo was known as Edo. Features an open-air bath that is recognized as the largest of its kind in the world by the Guinness World Records.
ViR Port (Theme Park)
A facility focused around the themes of beauty and health. Provides guests with opportunities to join in aqua and studio exercise programs, visit a beauty care salon, and savor other special experiences.
Hotels
Monolith Tower
Opened in February 2012 as a "Hawaiian & Spa" hotel.
ViR Port (Hotel)
A resort hotel crafted in the image of a French Riviera resort on the Mediterranean Sea.
Hotel Hawaiians
A large-scale hotel that is focused on traditional Japanese-style rooms and caters to a vast range of guest needs and tastes.