Splendid and Unique Dining Venues
at the Three Hotels
Monolith Tower

Nesia French-Polynesian Buffet
Highly original menu selections that fuse Polynesian and French cuisine and are filled with tropical ingredients. Six chefs work behind the counter grilling, steaming, and deep-frying customized dishes into piping hot selections that bring untold dining pleasures.
ViR Port

Latio 4-2-2 Resort Buffet
The resort menu here includes around 35 different dishes prepared from the finest fresh and seasonal ingredients. The semi-buffet dining style allows guests to choose from a delectable meat or fish main dish. This is a great venue for relaxed dining on original chef creations keyed to the mood and tone of each season and occasion.
Hotel Hawaiians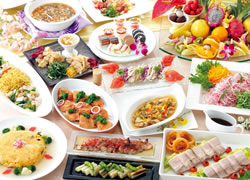 Queen Open-Kitchen Buffet Restaurant
These guestrooms are filled to the brim with luxury and combine a living room with a sofa set, a Japanese-style tatami-mat room, and a bedroom with a wide window.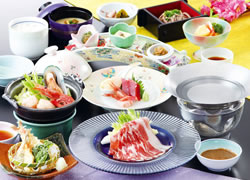 Banquet Room Party Style Dining
In-season seafood selections are scrupulously selected from around Japan and boldly prepared with just the right culinary touch. Each dish in this impressive lineup draws out the distinctive quality of the fine ingredients. Choose from standard Japanese fare, or choose shabu-shabu (meat fondue with veggies), hearty seafood stews, or other seasonal pleasures.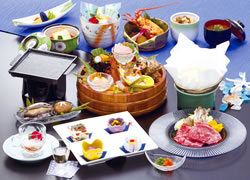 Yasuragitei Kaiseki Course Meals (Served in Guestrooms)
Each dish in these kaiseki style courses is separately prepared and carried to the room dining table piping hot and perfect for the palate from Yasuragitei's exclusive kitchen space, which is located right around the corner. The master chef makes generous use of peak seasonal ingredients in a skillful show of what Japanese cuisine can achieve, serving up the ultimate flavors for each time of year in the inimitable kaiseki tradition