Hot Spring Garden under Blues Skies Surrounded by Lush Greenery and Abundant Water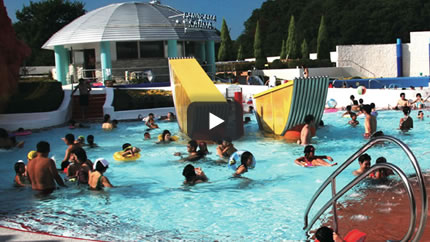 An outdoor spa garden nestled in rich greenery, flowers, and water, designed for bathing suit wearing guests to enjoy while soaking up the sunlight. This "art spa" comprises four different color zones that surround the circular dome shaped sauna at the center, which commands a view of the overall area. These zones consist of the three primary colors of passionately vivid blue, red, and yellow, and express the themes of "healing," "activity" and "romance." They are joined by a natural green hue that expresses the theme of "refreshment." During the daytime hours, the garden is bathed in the golden rays of the sun. As dusk approaches, guests can savor the sunset, and then, as night sets in, the flickering of the stars. The whole time, guests will experience a rich array of hot spring delights in an ample and liberating space.
Blue Zone
This zone is coordinated in the color of blue and is built around the theme of "Swaying with the Spa." Baths with massaging jets and other body-massagestyle spa items are located throughout the zone, in an area crafted to encourage guests to totally unwind within calm and composed surroundings.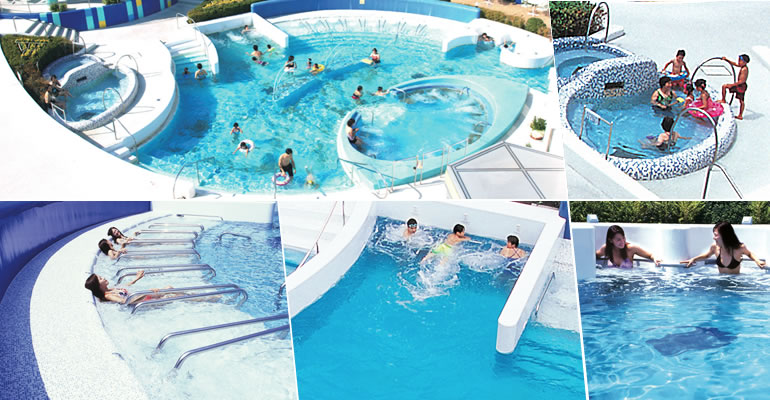 Tub Types
・Magnum float ・Massage ring ・Bubble sheet ・Hot & cold bath
Red Zone
A zone vibrantly awash in red that is built around the theme of "Playing with the Spa." This is an area for active play that is filled with passion thanks to the placement of artistic objects chosen to maximize the flying, spouting, flowing, and falling characteristics of water.

Tub Types
・Artistic object bathing ・Grotto pools
Yellow Zone
This yellow zone is built around the theme of "Frolicking with the Spa." The tub flows are sourced directly from the hot spring, and the tubs resemble the baths of Ancient Rome in that they surround a central space. This arrangement is conducive to friendly chatting between family and friends while soaking in the spa waters.
Tub Types
・Sound bath ・Bubble bath
Green Zone
This green zone is built around the theme of "Relaxing with the Spa." The bathing experience in this area includes walking pools and gurgling brook style pools that enable guests to rejuvenate themselves in mind and body as they gaze out over the lovely greenery of the English garden and the beautiful seasonal flowers.

Tub Types
・Gurgling brook bath ・Walking pool bath