A Strategic 27-Hole Spread That Puts the Rich Terrain into Full Play
Our official golf course is only a 5-minute drive away from Spa Resort Hawaiians. The facility consists of three separate courses that have been certified by the Japan Golf Association, 27 holes, 9,876 yards, and a total par of 108. The ingeniously engineered courses utilize the rich landscape sandwiched between the Abukuma Mountains and the Pacific Ocean and can be played by everyone from novice to advanced golfers. Guests utilizing the 2-Play Golf Package can ride a complimentary shuttle bus from Tokyo. With peak quality course conditions and other splendid amenities, this premiere-grade golf club is sure to provide golfers a stellar caliber of play at any time.
East Course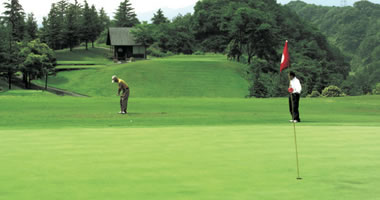 Battling the Forces of Nature
Nestled in a rich natural setting, this course demands a keen strategic approach and will provide golfers with a satisfying challenge. The middle holes are landscaped with out-of-bounds hazards on both sides, and every hole requires tight course management. This is where you can savor the full thrill and pleasure of golf.
Middle Course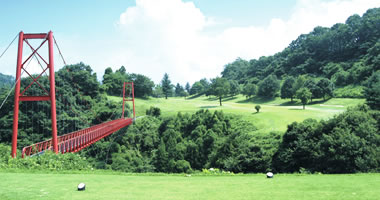 The Challenge of Subtle Landscape Changes
A lovely course designed to reflect the rugged American style of golf. Shots are routed over ravines, with delicate slopes and other meticulous challenges deftly concealed in the environment. The result is a tough course that demands smart andtactical play on every fairway and green.
West Course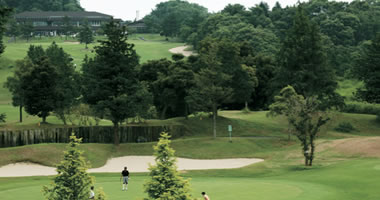 Communing with Mother Nature
An exhilarating course played as if exploring a lush forest. The guiding concept is to commune with Mother Nature while playing a pleasant round of golf. Nevertheless, on certain holes, players will need a sharp and strategic eye and a reliable swing to negotiate cunning combinations of out-of-bounds zones, grass bunkers, cliffs, and other tricky hazards.
Clubhouse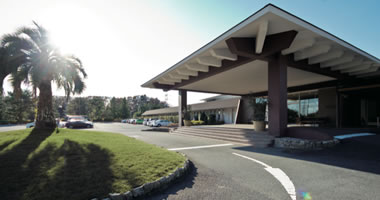 Resort-Caliber Ambiance and Class
The rich tropical mood of the clubhouse is first established by the palm trees that greet players at the entrance. The resort sensibilities of Spa Resort Hawaiians combine with an atmosphere of tradition and high class to give players the ultimate golfing experience.