Grand Hotel That Guarantees Relaxation
for All Generations
This large-scale hotel serves diversified needs with a total of 291 guestrooms that range from pure Japanese-style and Japanese-Western combination rooms all the way up to deluxe suites. For guests wishing to kick back in even greater luxury, there are sophisticated accommodations with elegant kaiseki style course meals served right in the room, as well as innovative new types of suites built to provide a leisurely space and maximum enjoyment for large and three-generation families. The three large onsite communal baths are all supplied with free-flowing waters sourced directly from the hot spring and offer guests the ultimate joys and sensations of the spa experience. Another part of the hotel that receives high marks is the hotel's buffet-style restaurant, which is known for its lavish spreads of seasonal ingredients and other dining delights.
Guestrooms
The hotel's varied guestroom lineup satisfies the needs of all generations, with everything from comfy Japanese style and Japanese-Western combination rooms to special and deluxe-caliber suites. Most in-room baths also feature natural hot spring waters, so you can enjoy a stay immersed in hot-spring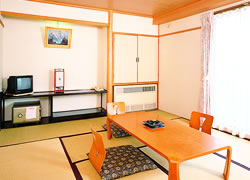 Japanese-Style Rooms
(with or without bath)
Tranquil ambiance available only from pure Japanesestyle rooms entices guests to stretch out and relax on tatami-mat floors.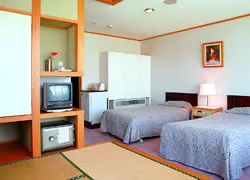 Japanese-Western Style Rooms
Combinations of a twin bedroom and Japanese-style room designed for versatility.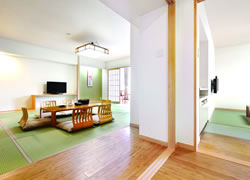 Family Suites
(2 Japanese rooms)
(Japanese + Western Rooms)
Offering around double the conventional room area, these rooms are spacious and relaxing and feature a high-class interior design.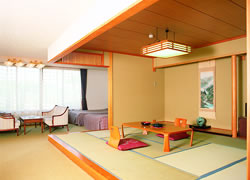 Special Suites
These guestrooms are filled to the brim with luxury and combine a living room with a sofa set, a Japanese-style tatami-mat room, and a bedroom with a wide window.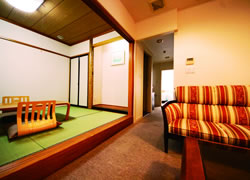 Deluxe Suites
Top-of-the-line suites that comprise two separate rooms: a bedroom that provides utmost privacy and a spacious living room with a Japanese-style area.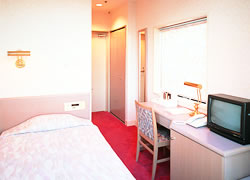 Single Rooms
These rooms are a fine choice for single travelers staying for business, to sightsee, to enjoy golf, or to otherwise work or unwind.
Spa Facilities
Hotel Hawaiians is immaculately equipped with three large and uniquely designed communal bathing facilities. Each is situated in an outstanding landscape and delivers healing effects for both body and mind. The baths give bathers the opportunity to bask to their heart's content in sulfuric free-flowing spa water sourced directly from Iwaki Yumoto Hot Spring.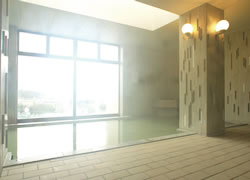 Yu-no-Take Central Bldg. Communal Bath
These guestrooms are filled to the brim with luxury and combine a living room with a sofa set, a Japanese-style tatami-mat room, and a bedroom with a wide window.
East Bldg. 2
Communal Bath
This large bath is located at the east side corner of the building. It allows the morning sun to stream in through two wide windows, which also deliver a panoramic view of the surrounding mountains and lush greenery.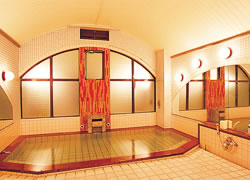 South Bldg. 2
Communal Bath
This cozy facility resembles a private bath and is not quite as large as a pond. The white tiling conveys a sense of cleanliness and purity.
Restaurants
Choose between two outstanding dining venues-an open-kitchen buffet hotel restaurant or a banquet room that serves traditional dinner party cuisine.
Queen Buffet-Style Restaurant
This venue specializes in open-kitchen buffet dining. Choose between a truly cosmopolitan menu spanning gourmet Japanese, Western, and Chinese cuisine.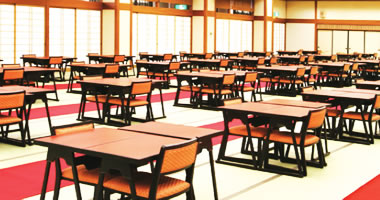 Party Style Dining
The hotel's spacious banquet room can be utilized for party style meals served in individual tray sets. Diners sit down in the Japanese style, relaxing at low-lying tables in comfortable chair seats.
Yasuragitei
Truly Luxurious Accommodations Steeped in Japanese Grace and Charm
The essence of Japanese elegance, marked by extravagant use of generous dimensions to showcase seasonal flower arrangements immersed in the rich scents of fine wood and tatami mats. An exclusive adjacently located kitchen facility is used to prepare each dish in lavish course meals, which are then carried to the dining table. Choose this venue to experience truly impeccable service and sumptuous amenities.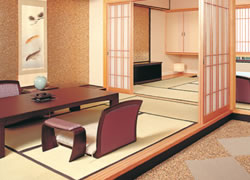 Pure Japanese-
Style Rooms
Room interiors complete with gardens, stone walkways, hanging lanterns, decorative alcoves, and other trappings of Japanese tradition and ambiance.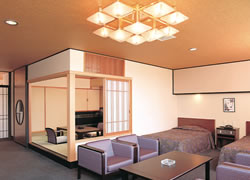 Japanese-Western
Style Rooms
These rooms fuse traditional Japanese beauty and high-class Western style, and have elegant bed and sofa accessories.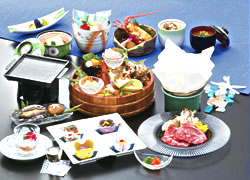 Kaiseki Course Meals Served
in the Guestrooms
The joys of elegant and delicate kaiseki course dining, with dishes prepared from the finest seasonal ingredients gathered from all corners of Japan. What better choice for savoring extravagance on special days and occasions?