Tower of Evolution and Symbol of the
"Bonding Resort"
Opened in February 2012, this 120-room (500 guest) hotel thoroughly embodies the "Hawaiian & Spa" concept. This hotel was built to symbolize the first half century of the resort's saga, during which the "One Mountain, One Family" spirit inspired the transition from coalmining to tourism, while also envisioning the next 50 years—for which we have our sights set on redoubled development and growth together with the extended community. The interior of the hotel features artwork that reflects the nature and culture of Hawaii and recreates the ambience of the traditional "real Hawaii." The hotel spa and other onsite facilities abound in the originality that only Spa Resort Hawaiians can deliver.
Guestrooms
The time spent in Monolith Tower rooms epitomizes the resort experience. applying the design concept of "residential guestroom," we were able to transform these rooms from places where you go simply to get a night's sleep to places that give you a sense of space and time that makes you feel right at home. The result is an environment for unwinding and the liberation of the body and soul.
White Types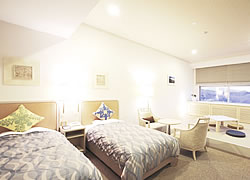 Hawaiian Japanesque Rooms
Guestrooms instilled with a fusion of Japanese and Western touches, ensuring unbridled relaxation for guests of all ages. The key features of these rooms are the tasteful white furniture theme and the raised rooms with stylish Ryukyu-tatami mat floors.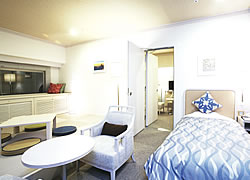 ConnecFng Rooms
These adjoining rooms of the same type are an excellent choice for larger groups, as they make it easy for people to come and go but also ensure privacy.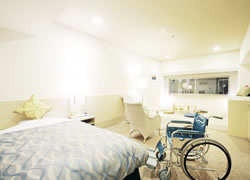 Universal Rooms
These superbly safe and comfortable barrier-free rooms are designed with spacious layouts and smooth wheelchair access to the bathroom, sink, and other room facilities.
Wood Types
Hawaiian Original Rooms
Liberated, open-architecture guestrooms with raised floors. Crafted to be used and enjoyed in many different ways, these rooms feature the rugged shade and nuance of natural Hawaiian tree woods.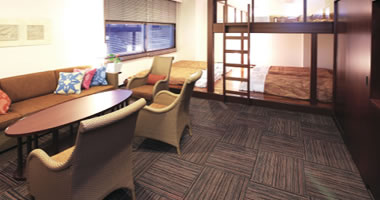 Family LoN Rooms
Designed to sleep up to six guests. These appealing loft-type rooms provide a spacious and accommodating option for three-generation families and groups of travelers.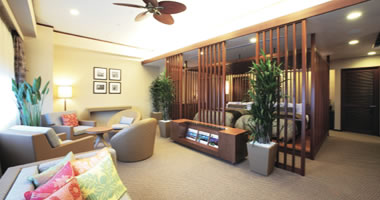 Suite Rooms
These gorgeous guestrooms on the hotel's top floor are overflowing with a "real Hawaiian ambiance." Each room has two queen-size beds, glass-encased bathrooms, and other luxurious features. Couples will make memories that will last a lifetime of blissful hours spent immersed in ancient Hawaiian legend.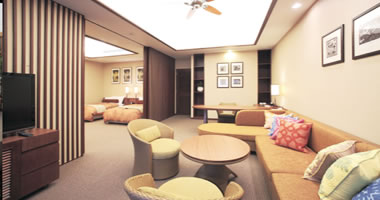 Stream of Wonders
Graceful white-toned quarters partitioned into a roomy sleeping area with four beds and a separate comfy living room space with sofas. The richly individualistic interior creates an elegant resort experience.
Spa FaciliFes
The hotel contains two grand spa facilities: a free-flowing spring that utilizes the overwhelming supply of hot water and an innovative semi-open-air bath that blends light and shadow. True to the concept of a "hot spring for savoring quality time," these spa environments are designed for long hours of tranquil pleasure.
Note: The spas operate alternatively, switching over at 12:00 midnight. This allows guests to enjoy both hot springs even during one-night stays.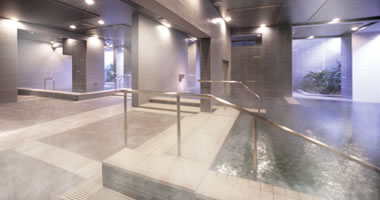 Angled Bath
Crafted to resemble a coal mineshaft plunging deep underground. A number of squares are linked to create a cozy environment filled with corners for people to relax in.
・Full-body bath
・Half-body bath
・Open-air bath
・Walking pool
・Dry sauna Ondol (floor-heated)
・Cascading water bath
・Wading pool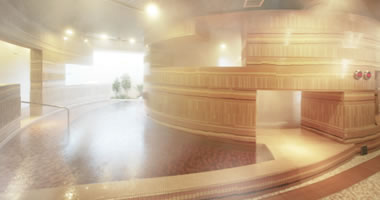 Angled Bath
The design for this bathing area is based on an image of geological formations accrued over the millennia and the conch shells found in Polynesia. The helical shape and soft circular configuration of this mystical environment entice bathers into its depths.
・Full-body bath
・Half-body bath
・Open-air bath
・Walking pool
・Steam sauna Ondol (floor-heated)
・Cascading water bath
・Wading pool
Restaurant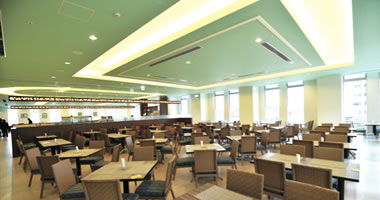 Nesia French-Polynesian Buffet
This hotel restaurant features a new dining style that is based on the "order-buffet" concept. An open kitchen is used to prepare the cuisine right before guests' eyes. There is also a "kid's kitchen" where youngsters can choose their favorite toppings. An added delight is an extravagant dessert corner with an impressive lineup of pastry shop specialties.