All-Weather Dome Filled to the Brim
with a Tropical Mood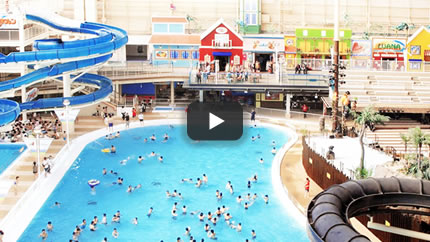 The Water Park is a zone built to truly embody the Spa Resort Hawaiianstheme park spirit. The average indoor temperature is 28°C, and all the pools in this dome are supplied with the rich thermal waters of Iwaki Yumoto Hot Spring. The facilities include a large curved pool that embodies the resort aesthetic, three types of waterslides, a flowing pool, and child-friendly pools.
There is also an area with restaurants and shops that recreates the "old Hawaii," a theater used to stage daily Polynesian shows, the world's only museum documenting the glorious history and culture of the Hawaiian Islands, and other delightful and educational attractions.

Waiwai Ohana
This pool is divided into three different zones—two areas designed to allow children to frolic in safety and a flowing pool stretching 130 meters in circumference—complete with 23 different attractions. Each part presents exciting hidden touches to stimulate young imaginations.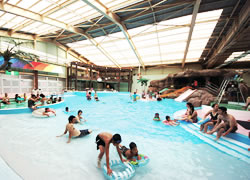 Paradise Cove
This zone offers a rich range of water fun—from children's waterslides to baby wading pools.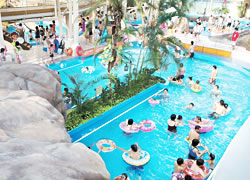 Stream of Wonders
This flowing pool, where water fairies are rumored to dwell, is full of ingenious features that are sure to delight parents and kids alike.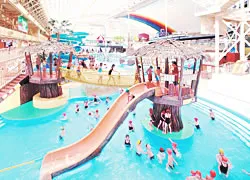 Friendship Canyon
This zone has a suspension bridge, a children's waterslide, and other exciting attractions that are sure to fuel your child's spirit of adventure.
Waterslides
Three thrilling waterslides divided into five different courses, crowned by a super-speedy route in which riders hurtle down from 17 meters overhead in one fell swoop. There are many different waterslide options to suit your individual preferences: you can slide alone or in pairs, and you can slide from a variety of different heights.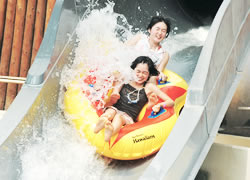 Wonder Black
This slide is 130 meters in length. Riders flow down a dark tube at maximum speeds of 40km/h.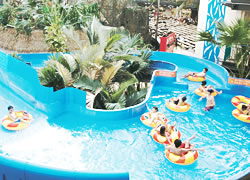 Stream of Wonders
A 100-meter-long waterslide designed to be descended on flotation rings. Gives riders the sensation of shooting down river rapids.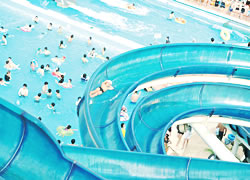 Friendship Canyon
Two twisting and turning waterslides that carry riders a total of 120 meters, and a separate tamer version for beginners.
Beach Theater

Super-wide panorama stage with tropical trees in the background, used for the daily Polynesian shows starring hula girls. The stadium-style venue includes admission-fee seating with a complimentary drink included, while guests opting for the special SS seats can pose for souvenir photos with the hula girls.
Beach Theater Paid Seating
Seats in the first two rows directly in front of the stage, close enough to almost feel the dancers' rhythmic breathing.
The third and fourth rows behind the SS Seats and the first two rows off to both sides. Placed at an excellent distance for taking in the show.
Second-level seats in front of the stage. Designed for watching the performance leisurely from a birds-eye view.
High cost-performance seats on the left side of the second level. Put guests at a pleasantly close proximity to the stage.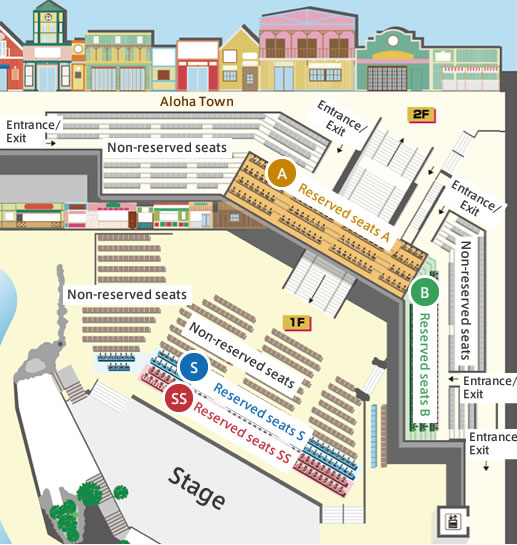 Aloha Town
This gourmet and shopping zone recreates the street scenes of Kauai Island from the "good old days" of the 1960s. The town consists of a food court with a wide range of eating establishments and other amenities and a shopping quarterwith a rich selection of merchants.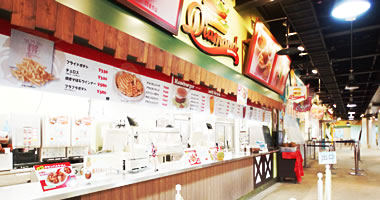 Luau Food Court
In this dining district, you can enjoy locomoco, fresh pineapple juice, and numerous other Hawaiian foods and beverages.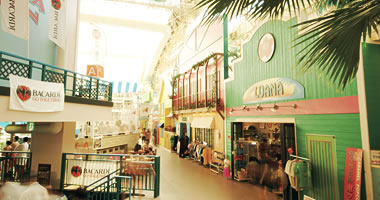 Makana Shopping Deck
This shopping area is stocked with Hawaiian jewelry and fashion items, general goods, and other imported products.
Amusement Pavilion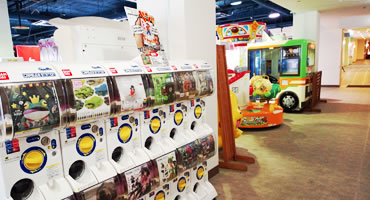 In this dining district, you can enjoy locomoco, fresh pineapple juice, and numerous other Hawaiian foods and beverages.
Entrance Hall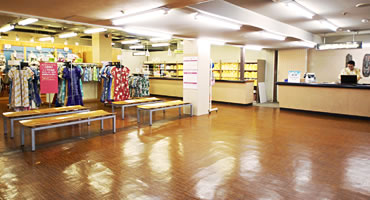 In this dining district, you can enjoy locomoco, fresh pineapple juice, and numerous other Hawaiian foods and beverages.